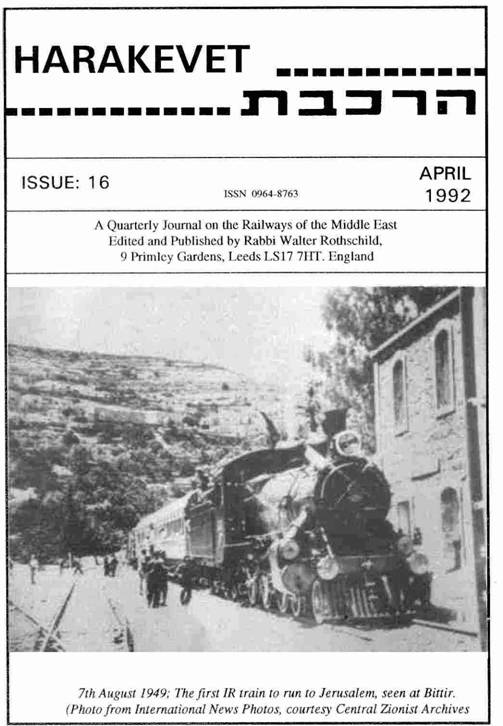 -

16:2
EDITORIAL: ISSUE 16.
With issue 16 we close another "series" ("Volume" sounds rather pompous), and subscription forms for issues 17 - 20 should be going out with this magazine. My apologies for the slight delay in production - this copy was due in March, but honesty compels me to date it 'April' 92'. Domestic/health troubles and hassles at work are to blame - not a shortage of' material. Indeed, my apologies to all those who have sent in material that I have not yet been able to use. However, the editorial files are bulging with fascinating stuff - and I still hope to produce Ray Ellis' s work on PR coaches, and perhaps 'special issues' on the Jaffa - Jerusalem and HBT lines to mark their respective anniversaries.
This is my chance to draw to your attention plans for the first-ever railway enthusiasts' tour of' Israel in November - there is an article elsewhere in this issue, and a 'flyer' enclosed with most copies. (The flyer is the work of Bill Alborough - I bear no responsibility for any flattering or other comments !) At the time of writing the plans for any official celebration of the Railways Centenary in September are not known, but I gather there will be a series of local events. Israeli readers wishing to join in the tour should respond to TEFS - depending an numbers, so- arrangement can probably be made.
<![if !vml]>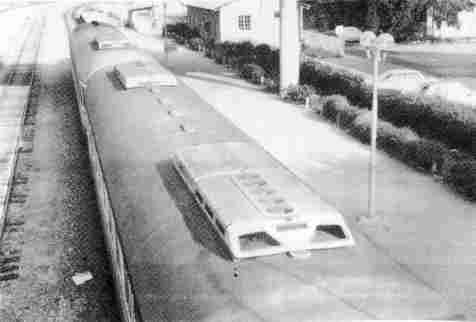 <![endif]>
16: 3 Air-conditioning units on the roofs of IR coaches; Haifa Merkaz, June 1991.
(Photo: Walter Rothschild) ,
16: "
NEWS FROM TIlE LINE.
1. Broken Rail
A broken rail near Dor caused a good deal of disruption to traffic in the afternoon of 12/12/91. A Tel Aviv - Haifa train already in section was worked past the gap at extreme caution, but several subsequent trains had to be halted for up to ninety minutes until the emergency crew could be called out and repairs made. The unfortunate signalman at Binyamina (the only station staff on duty by that time of day) was inundated by passengers whose tempers ranged from merely mad to outright apoplexy.
2. Collision.
At about midnight on 24-25/12/91 freight 334 headed by G12 120 failed at kilometer 45, summit of the climb from Hadera to Binyamina. The Binyamina shunter was not available to give assistance so freight 331 was sidetracked at Dor and its loco (Co-Co 609) was sent out to retrieve 334. For some reason the driver of Train 334 had radioed that he was standing at kilo 48, not kilo 45 as was actually the case, with the result that 609 crashed into the stationary train with some force. The crews suffered no more than a severe shaking up and light injuries (fortunately both locos ware running with the long hood forwards), but the two locos, particularly 609 which partially reared up on its bogies, were extensively damaged, and two wagons at the front of train 334 were also derailed. The main line was not reopened until 1000 the next morning when locos 609 and 120 had been dumped at Binyamina, the two derailed wagons dragged clear of the track, and freight 334 worked out of section. Later in the day police were called out to Dor to keep an eye on the stranded freight 331 when persons were seen breaking into one of the containers. 609 and 120 were hauled back to Haifa that night.
[ "Ad Meah V' Esrim". G12 120, of course, has a notorious reputation with much blood on its wheels. It was the loco involved in the Habonim disaster of May 1985 in which 22 people, mostly children, were killed, and it has been involved with other fatalities also. In a generally non-superstitious society there has, nevertheless, been at least one suggestion that 120 should be renumbered.]
3. Level Crossing Smash.
According to 'Kol Israel' radio on 9/1/92, a train had hit a road vehicle on 'a road crossing on the Jerusalem - Tel Aviv railway'. 'Yediot Aharonot' for the next day showed a photo of a large lorry that had been struck by a passenger train on an unguarded crossing near a building site on the outskirts of Jerusalem; the driver of the truck had been severely injured. The report commenced: "The loco thrust the 40-ton lorry from the driver's cab into the air, so that it landed 30 metres away. Luckily the lorry was loaded; had it been empty, it would not have landed until Beit Safafa !"
Later information: the train was the 0730 from Tel Aviv Darom formed of G12 107 and a single coach. The loco driver received medium injuries, and one passenger was slightly hurt. The line was closed for four hours until a light engine could be sent from Lod to haul the damaged 107 and its coach to Lod.
4. Carmelit Problems. From the I.C.E.N. Vol. VI 6/12/91: "The Haifa Development Corporation has rfused the request of the Swiss engineering company Von Roll for a 10 day extension in their work on the Carmelit cable railway. The Swiss company is liable for a payment of $5,OOO for each day of overrun.
Haifa Corporation Managing Director Hanan Nitzan said that since the local contractors on whose work the Von Roll project is based had completed their contracts on schedule, there was no reason to grant an extension. The Swiss company has announced its intention to work three shifts in order to meet the deadline. The renovation of the Carmelit is scheduled for completion by July 1992..
The Haifa "Kol Bo" of 6/12/92 also reported the refusal; the new coaches were due to arrive in Israel in January. "Kol Haifa" for 17/1/92 reported them due in March!
Another twist to the saga appears in 'Kol Haifa' for 13/12/91: the religious parties seem to have been threatening to quit Mayor Arye Gurel's coalition administration if the Carmelit is operated on Shabbat !
The 'Kol Bo' of 20/12/91, p.26, reports on proposals to introduce an integrated ticketing scheme ("Kartis Meshullav") in Haifa covering the buses, Carmelit and suburban trains. Kol Haifa" of 17/1/92 reported that agreement had been reached for the 'Egged' bus co-operative to operate the Carmelit. This would have the effect of allowing 'Egged' tickets, including the monthly pass "Hofshi Hodshi" , to be used - but may knock on the head any further integration with the railways!
There are also proposals still to build a new IR station near the Custom House (Beit Hamekes) and extend the Carmelit 350 m to meet with it. The Ports and Railways authority have apparently agreed to fund this 8-million dollar project. The Carmelit authorities are expecting 30,000 passengers a day to use the refurbished line.
5. Ashdod Service. The same issue of I.C.E.N. reported: "The Ports and Railways Authority is planning to introduce a rail passenger service from Ashdod to Tel Aviv via Rehovot and vice versa. The service, which is planned to start in the spring of 1992, is seen as an interim solution till the introduction of the planned high speed suburban rail service. The route will be covered in 36 minutes and should reduce congestion on the roads."
Alas, this seems likely to be 36 minutes from the outskirts of Tel Aviv to the outskirts of Ashdod - a sprawling new town whose bus station is also hardly central; the railway, moreover, links to the harbour, not the town some distance away.....
6. Ramle Suburban Service. "Yediot Aharonot" for 14/11/91 (p.14) reports that the Tel Aviv - Ramle suburban service (רכבת הפרברים) is to be increased from 4 to 7 trains daily, and the journey time reduced from 45 to 20 minutes.
7. Haifa Suburban. Plans still exist to introduce the Haifa suburban service in July/August '92, linking the city with the 'Krayot' or 'Residential Districts' to the north, along the existing line to Nahariyya. However, in January there has been some dispute about the legality of the route and its reconstruction, involving the Society for the Protection of Nature in Israel and the Haifa Municipality.
The 400-metre long new dual-carriageway road underpass at Haifa Bat Galim was officially opened to traffic at 1p.m. on 27/1/92. This road ("Rehov Hayl HaYam", or "Navy Road-) serves the busy port, the Rambam hospital and the Bat Galim quarter, and in the past has always required a man to be stationed next to the level crossing, partly to excercise judgement should an ambulance come roaring along whilst the barriers were down. Press notices refer to 100 trains a day going over the bridges (which serve three tracks) and 40,000 road vehicles passing under them The area is now known as the 'Dolphin Bridge'.
Thanks to Steve Tish for several of the above cuttings.
6. More Storms. According to the "Kol Israel" morning news broadcast on 5/2/92. bad weather conditions - storm, rain, hail, snow etc. - had caused the closing of the Ayalon highway for the third time in recent months. Two extra trains were scheduled for the Jerusalem line, departing both termini at 0930 and 1400. By the 16.30 broadcast, trains from Tel Aviv Arlosoroff had been resumed, but passengers were being transferred by bus between Binyamina and Hadera, presumably due to a washout.
Thanks to Malcolm Freedland for monitoring the broadcasts.
Belatedly, a press report of 2/1/92 states that an extra train for those wishing to look at the snow would work from Tel Aviv Darom at 0635, returning from Jerusalem at 11am, and that Haifa trains were departing from Bnei Barak owing to the closure of the Ayalon through weather conditions, and a service of special buses linking Arlosoroff with Bnei Barak station.
9. Egyptian G16's.
The ex-ER G16 Co-Cos are but rarely seen working passenger trains along the main line. However, for the first time in nearly four years 162 was so employed for a week in January 1992. The loco had been stripped of its side valancing, was in poor external condition and its red, yellow and green livery wee very faded indeed.
10. The Thin Red Line.
Certain passenger coaches (numbers currently unavailable) had a red stripe added along the body sides in January, and the roof-mounted air conditioning units were also painted in the same shade of bright red. These coaches are intended for dedicated use on the non-stop expresses (reserved seating only) between Tel Aviv and Haifa. This is all well and good in theory, but in practice such coach sets tend to get split up for one reason or another. It remains to be seen how long these sets remain matched on IR.
11. Seeing_ Double.
At the end of December 1991 work began on grading for double track between Binyamina and Hadera Ma'arav.
12. A Record Year. From I.C.E.N. Vol. VI No. 262, 31/1192: -The Ports & Railways Authority says 1991 was a record year for the railways which carried 2,874 mllion passengers - an increase of 16 % over the previous year. In 1992, the railways expect to double the number of passengers carried following the inauguration of the suburban rail service in mid-summer.
16:5
MORE ON THE ORIGINS OF IR' s SAFB Bo-Bos By Alan Siton.
Earlier article- on these Bo-Bo diesel locomotives, Sociiti Angle-Franco-Belge at La Croyire, Belgium in 1951, have stimulated a lot of interest. Alon now adds the fruits of his researches;
Little has been told of this trio, largely due to the considerable uncertainty surrounding their acquisition, even though they were officially the first diesel traction to run in Israel.
Unlike their American relatives, however, the SAFB locos differ in more than just a few aspects from the standard design of parallel units built for use outside the USA at that time. The IR trio thus stand. alone and as such exists as a class of its own, as nowhere else are simi1ar examples to be found. The classis even more rare in that it does not conform to General Motor'. Electro-Motive Division (EMD)'s export production line, as is the case with later models in the 'G' series. Certain components have, however, been combined from the designs EMD produced for domestic use.
It could generally be said that the fundemental basics of the American RS (Road Switcher) and SW (Switcher, Welded Frame) designs were integrated into the class. (These common origins date from the 1940's, and set the path for almost all the modern diesel locomotives, among them the common G12 class.) This was a great time for dieselization and within just a few years from 1945 more new types were available in the catalogue. than ever before - and not without some efforts to create or break into the European market. In this way it is possible to trace SAFBs. design to its pristine root. by inspecting the locomotives physique.
One similarity to the G line (from which emerged mst of IR's diesels) is the basic outline of the SAFB's which consist of a long hood, in which the cooling air intake in the front is clearly derived from the SW line, in this case from the SW1200 (later SW-9), where it houses a V-12 type 567 prime mover.
The spacious cab is, a. mentioned earlier in 'Harakevet', greatly different from that fitted to the G12 and its unique styling, which is non-EMD, should therefore be SAFB' s own interpretation. The contemporary EMD SW-series would never have fitted IR' 8 restricted loading gauge. The short, high hood on the other end is obviously used only to house the dynamic brake resistor banks and cooling fan in it. upper portion, as was. later incorporated in, for instance, the G12.
All in all, there was nothing like the SAFB diesels in America. Only in later years, when ALCO designed its RSD-5 switchers, were the nominal dimensions reused by replacing the short and low hood with a higher one while keeping the low and long one up front. The strange-looking result quickly beca-me known as the "Hammerhead".
The frame (or running gear) is also close to that of the SW-series with one remarkable exception: the locos do not ride on standard US switcher trucks (AAR Type A"), with their 2,400mm wheelbase whose simple and rigid construction imposes a limit of 35 mph. in top speed, but instead are equipped with road trucks of 2,740 mm wheelbase. Apart from this easily-visible difference, the SAFB locos are mounted on genuine "Blomberg B" trucks instead of the light export trucks as used later on. Only Saudi Arabia' s FP-7's, easily recognisable by their dog noses, share the same type of wheels - but these are of original US build. This could possibly be explained by the time of their construction - they preceded the G series for export and thus there might have been no other type of truck available. Details of this type are:
Engine type: 567B; RPM Max: 800; Dates built: 7/45 - 3/54;
Compression ratio 16: 1 ; 12 cyl., 1125 hp.
Could the three SAFB diesels built for Israel so soon before the introduction of the G series be considered as the lost ancestors of the "Hammerheads" ? Quite possibly so. EMD did dabble in light road switcher designs when customers insisted. One of the results was the NW-5 type, a modified reproduction of the ALCO RS-l concept, 10 out of 13 examples built going to the Great Northern railroad. A slight deviation was included, though - the dynamic brake installed in the short hood was replaced by a steam heating generator, due to the railroad's location in Montana, Oregon and Washington State - all cold places.
Finally, it should be noted that similar designs, some by SAFB and some by other firms, were produced In numbers for Luxemburg's CFL and possibly for neighbouring countries in the Benelux region, though this remains to be investigated.
My thanks to Bernd Kittler of Nurnberg, Germany, for guidance and information."
(Editor: A tiny little snippet shows how coincidence works: amongst the first standard-gauge steam locos to work in Palestine were eight 0-6-0's and four 2-4-O's of the Egyptian State Railways, loaned to the War Department for use on the line from Kantara - and built by Franco-BeIge !)
GUARDS.
16:6
In Britain almost every passenger train has a Guard; in the USA they have a Conductor. In Israel they have both! The Conductor sells and checks tickets, and the Guard guards the train. A security man in a light-blue shirt with the IR logo, a walkie-talkie and a gun is a frequent sight on trains and stations, keeping an eye out for suspicious packages, loitering enthusiasts and - at Bittir - stone-throwers.
A news item in the 'Jerusalem Post' for 28/9/91 revealed so-me activities of a Tel Aviv-based private security firm' Hod Hahanit' (-Spearhead-), owned by Co1. (Res.} Yair Klein. This firm was recommended by the Transport Ministry's Chief Security officer for training staff, and has served both Egged and Israel Railways in the past.
16: 7
STORMY WEATHER.
By Paul Cotterell.
After several drought years the winter of 1991-2 has been exceptionally wet throughout the Middle East. While it didn't actually rain continually for forty days and forty nights, this past winter has been the wettest since records began, if not since Genesis 6: 10-12. Snowfall has also been widespread and heavy.
In Israel serious disruption began in November and December 1991 when Tel Aviv Central Station was closed by flooding (as reported in 15:9), then, at the end of December, a blast of Arctic air swept down into the eastern Mediterranean bringing torrential rain and, on high ground, heavy snowfall. 30 cm. of snow fell on .Jerusalem (Amman in Jordan had 60 cm.) and even the Negev Desert had an appreciable snowfall. By 1/1/92 many roads throughout the country were closed by floods or snow, electricity supplies were hard hit, and hundred. of families had to be evacuated from inundated homes. The Jerusalem line was closed in mid--morning. In the afternoon the River Ayalon burst its banks again. flooding Tel Aviv Central to above platform level. Passenger trains were diverted to run to and from Benei Berak with a connecting bus service until Benei Berak station, too,
became flooded in the evening. The last two trains from Haifa had to be terminated at Herzliyya. Shortly afterwards, the sections Benei Berak - Lod and Lod - Ashdod were under water and traffic along them was stopped. The flood waters receded quickly, however, and the .Jerusalem line reopened next day with three extra trains being laid on between Tel Aviv Darom and the capital. These were well patronized by lowland Israelis determined to see Jerusalem. under its white blanket. Tel Aviv Central also reopened on 2/1, but problems there continued for several days. The floodwaters had clogged the point motors with mud. and these seized solid as the mud dried out. All the motors had to be thoroughly cleaned before smooth working could be reinstated.
The wet weather continued, with another major storm system hitting at the beginning of February. The remining active section at the southern end of the old inland British-built main line, between Rosh Ha' Ayin and Kfar Sava, which still sees a more-or-less daily freight working. was closed by floods on 2/2. Winds of almost hurricane force, gusting up to 160 kph., brought more torrential rain and hail over the next two days. At about 17. 15 in the evening of 4/2 the raging River Ayalon burst its banks yet again. Once more Tel Aviv Central station, the new railway formation and main roads were inundated. Passengers found themselves being deposited at Benei Berak again, with a bus ride to and from the city centre. More flooding around Lod and Rosh Ha' Ayin - no main line freights ran that night. There was snow on high ground. but the Jerusalem line remained open for the time being. IR intended to run an extra train between Tel Aviv Darom and Jerusalem on 5/2, but this plan was thwarted in the early hours of the morning when a large boulder rolled down on to the line in the Judean mountains. and was not removed until the following evening. The Haifa - Tel Aviv main line also closed between 0900 and 1300 on 5/2 when the ballast started to move at km. 46, between Binyamina and Hadera.
Several passenger trains were halted in mid-journey and their occupants had to complete their severely - delayed travels by bus. Tel Aviv Central station had dried out sufficiently to be reopened by the time repairs were completed at km. 46. Next day the IR General Manager appeared on TV to assure viewers that measures were to be taken to protect the new railway through Tel Aviv from future threats of flooding by the River Ayalon.
On 9/2 another intensely cold front swept in bringing more heavy rain and snow. This time the snowfall was more serious, even the coastal plain not being spared as flurries reached as far south as Herzliyya. Elsewhere in the country the snow settled thickly, reaching a depth of 5m. on the Golan Heights and up to 12 m. on Mount Hermon though that, obviously, is not representative of the rest of Israel. The Negev Desert saw snow for the second time this year, and the kids were throwing snowballs even in Eilat - on the same day that a group of international hoteliers convened to hear the town touted as the place where the sun always shines! Even Tiberias, 200 m. below sea level, was covered in a white mantle. That night temperatures plunged as low as -70C in the hills. In spite of these exceptional conditions IR was practically exempt from disruptions this time, though it was touch-and-go for a while in Tel Aviv as the Ayalon threatened to flood again. Much of Israel was less fortunate with widespread power cuts, roads closed and settlements isolated. The flood gates were opened at the south end of the Sea of Galilee to let the rapidly rising waters escape down the River Jordan to the Dead Sea. Despite this, and all-out pumping of water from the Sea of Galilee into surface reservoirs and natural underground aquifers, the level of the Sea of Galilee continued to rise
inexorably. Flooding was widespread along the Jordan Valley. Lake Hula, north of the Sea of Galilee, suddenly reappeared, having been drained in the 1950's to provide rich agricultural land.
By mid-February the rain had stopped; the rainy season, though, still has another six weeks or so to go. For now, people are ruefully counting the cost of lost crops, flooded homes and damage to the country's infrastructure. Fingers, as usual, are being pointed - quite uselessly so in most cases. The experts are baffled and besieged. When the Ayalon first flooded they said it could only happen once in forty years; the second time they declared it may do so every twenty years; now they're saying once every ten years is a possibility. Last November the Sea of Galilee - Israel' s main source of fresh water - had fallen to four metres below its optimal level and was just a fraction above the' red line' when all pumping would have to cease. It would take ten years of heavy rains to bring it up to its optimum level, they said. Now it's filling up more rapidly than they can let the water out, and if not another drop of rain falls there is still more than enough run-off and snow melt to threaten further flooding of the lake.
[Ed.: It's interesting that the weather is doing what it can to make the new Russian immigrants feel at home! As yet IR has never felt the need for snow ploughs if such weather continues, maybe that will change?]
16:8
LOCOS LOST AT SEA
Further to 12: 19 and 14: 15j [ have received from Martin Allen some further information about locomotives lost at sea en route to the Middle East.
a). [n 1918. four L.&SWR Adams 0395 class 0-6-0' s were lost in the Mediterranean following a submarine attack, en route to Palestine. The engines concerned were numbered by the LSWR as 105, 165, 404 and 406. The name of the ship has been quoted in two books as being the Arabic", although a search of official records shows that whilst a ship of that name was indeed lost during WW1, that was in 1915 and the ship (British registered, 15, 801 tons) was carrying light cargo only from Avonmouth to New Orleans at the time. The loss occurred in the Atlantic, 50 miles off the Old Head of Kincade, by a torpedo attack from the submarine U25.
There is mention in official records of the "Arabian", British registered, 2.744 tons), sunk by gunfire on 2nd., October 1915 from the submarine U33, 15 miles off Cerigo, Greece. The cargo in this case is only quoted as "general, the ship sounds rather small to be carrying locomotives, and the date is wrong.
b). During 1941, three ships carrying LMS design 8F" 2-8-0's to the Middle East were involved in incidents. For the sake of completeness I shall repeat some at information in earlier 'Harakevet' entries:
(i): The "Jessmore- (76,802 tons) carrying locos 343-5 to Turkey, lost on 25 February 1941, 300 miles West of Ireland, following a collision with another vessel, variously quoted as either the Baron Pent land" or the Baron Haig, (Note: the date is different to that quoted by Rowledge).
(ii): The "Berhala- (Dutch flag, 6,622 tons) carrying locos 338 and 354-6 to Turkey, lost on 23rd. May 1941, off Freetown, torpedoed by an unknown submarine.
(iii>: The "Pembridge Hall-, en route to Persia, was involved in a heavy storm in the Irish Sea (exact location unknown), and deliberately dumped overboard locos 608, 617, 619 and 622, to avoid sinking. The ship eventually re-docked in Glasgow.
23 8F's in total were lost at sea - none of the above-mentioned were in the Mediterranean, so the Jacques Cousteau film must have been of another batch.
c) [n October 1941 a ship (name unknown) was sunk whilst carrying Robinson 'ROD' 2-8-0' s numbers 139 and 740 to either Egypt or Palestine.
d). In 1943. two USATC 0-6_OT's numbered 1288 and 1289 were lost at sea, en route to the Middle East. They were, on paper at least, British WO stock, and part of the first batch built, USATC/WD numbers 1252-1316, which, together with follow-on batch 1387-1436, were "Lend-Lease, all subsequent construction being solely USA1_ property.
e). Between October 1943 and January 1944 twenty-four USATC 2-8-2's, built 1941-2, numbered in the range 1000--1199, were also lost at sea en route to the Middle East.
f). Four second-hand metre-gauge 4-6-0's, requisitioned from India between August 1941 and August 1942, were lost en route to Iraq. They were BNWR 215 (Neilson 6273/1902); and 220 (Neilson 6278/1902); MSMR 289 (Vulcan 2635/1910) and NSR No. 171 (Kerr Stuart 411811921).
16: 9
NARROW GAUGE INDUSTRIAL ADVERT
One interesting old periodical is Altneuland : Monatsschrift f| die Wirtschaftliche Erschliessung Paldstinas". A set can be found at the Jewish National and University Library at Givat Ram, Jerusalem. It was published in Berlin by Kommissions Verlag, Juedischer Verlag GmBH, edited by Dr. S. Soskin. The pages are now yellowed and fragile, so cannot be photocopied.
1905 was the second annual series (11 Jahrgang) , and the same advertisement appears inside the back cover of issues 1,2,3,4,5,& 6/7 for that year. It reads:
"Feldbahnen f|r die Kolonien.
Plantagebahnen, Gleisanlagen f|r den Transport von
FeldfrOchter, Erdmassen etc. liefert:
Arthur Koppel
Berlin London Cairo
A.G. Arthur Koppel
Warschau Odessa Petersburg.
Vertretung in Athen, Constantinopel, Smyrna etc."
There is a picture of a horse-drawn high-sided open bogie wagon, in front of some palm trees.
The body of the text can be freely translated as: "Field tramways for the Colonies: Orchard tramways, railway equipments for the transport of crops and bulk minerals. The offices of the company include "Representatives" available in Athens, Constantinople etc. Clearly it was Koppel's hope to sell narrow gauge (presumably 60cm.) rails and rolling stock in the Middle East, and he hoped to market his equipment to the new Jewish agricultural colonies then being established. Did he succeed?
The firm later merged with Orensteins to become Orenstein and Koppel, well-known manufacturer of narrow-gauge locomotives. A subsidiary of the firm currently produces escalators at Keighley, England!
I have seen occasional blurred photos of small tramways in kibbutzim - mostly employing hand-propelled trollies. Does anyone have more information or pictures?