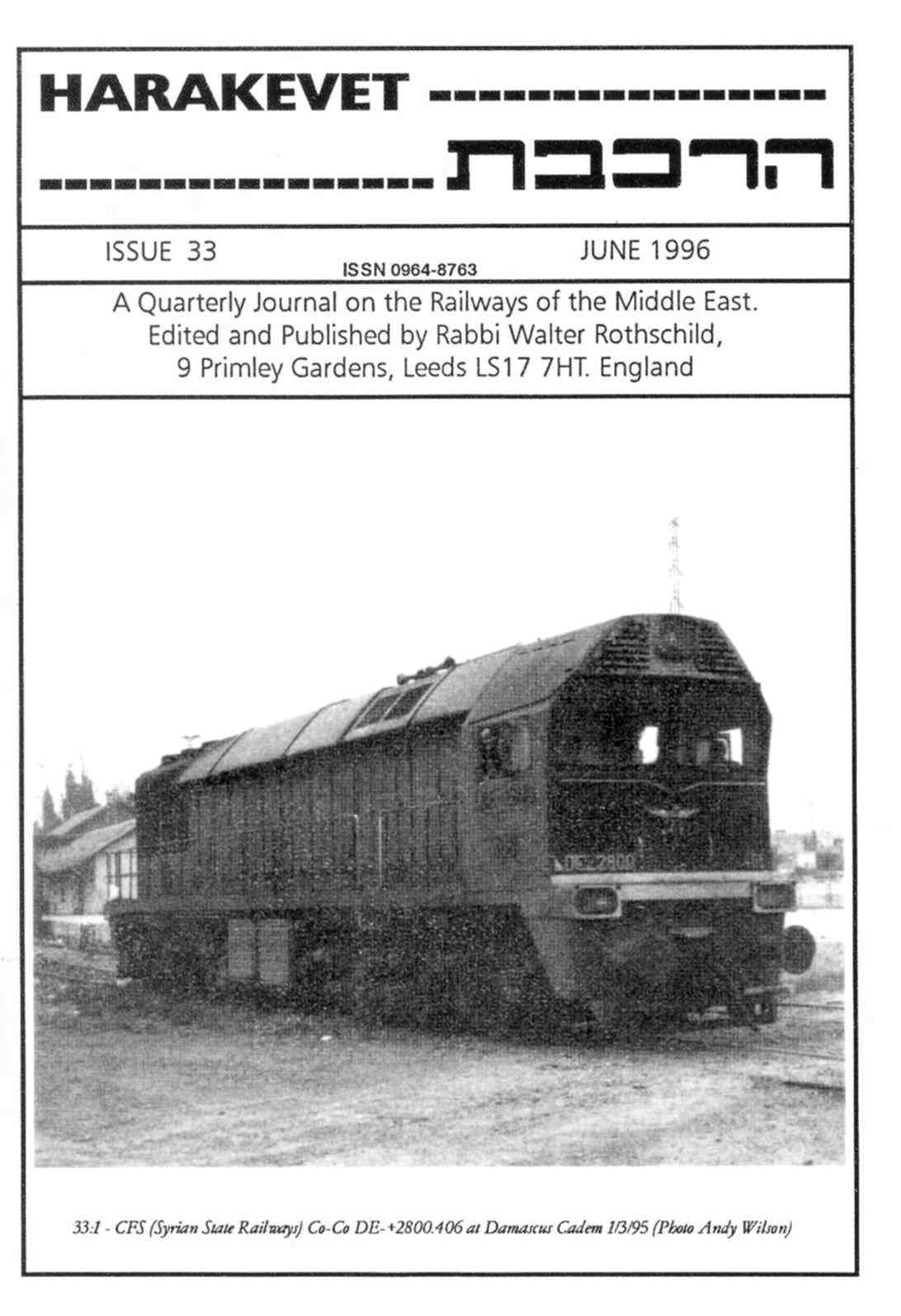 Editorial. Issue 33.
Your Editor's life remains fascinating, mobile and "financially-challenged"; nevertheless, I have managed briefly to "touch base" in between work-related travels to Sarajevo, Berlin, Vienna and Bratislava. Alas, not to Amman, Damascus or Beirut - but fortunately a good network of contacts keeps me - and you, the readers - remarkably well informed on what is happening in various parts of the Middle East. I am certainly the only rabbi to get an envelope full of photos of Beirut in the post on the same day that the news is full of air raids on that city.... It is not always possible to use all the material that arrives, but nothing is ever thrown away......
Issue 33 is another mixture. I am slowly learning to use my new PC; in the meantime a lot of stuff was printed off on my old Amstrad, and rather than typing it all over again, or paying someone to transfer material from 3" to 3½" disc (the same problem as caused the Gauge Conversion in the 19th. Century !) it is simpler just to use what there is. A lot remains on file and will be used up bit by bit, leading to a hybrid appearance of issues for a while to come. One day I hope to acquire a scanner (and the skills to use it), to help in incorporating photos and maps - after which "Harakevet" may finally reach the technological standards of the late 1990's - probably in time to be out of date again. Oh well. In the meantime: Enjoy !
The Editor.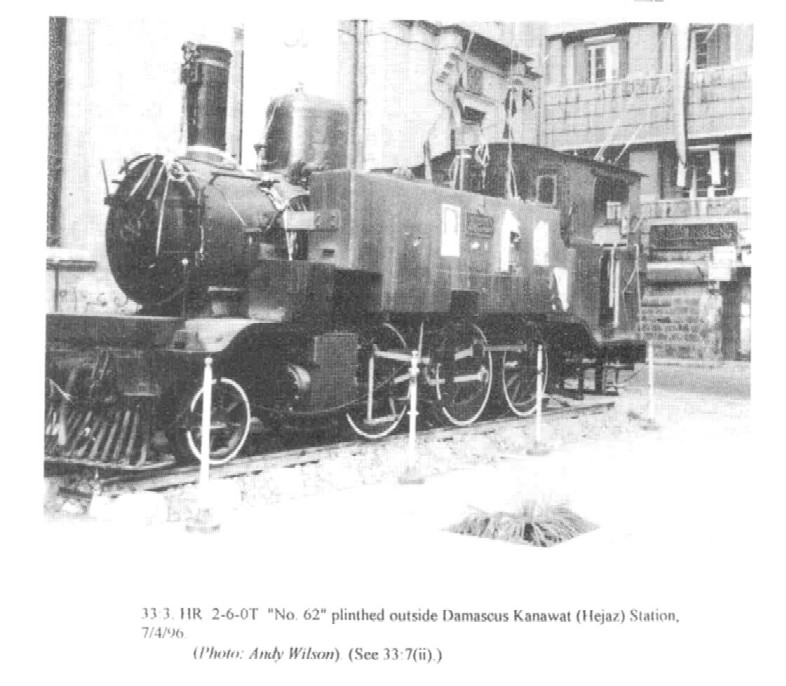 33:4
NEWS FROM THE LINE.
a). Beersheva Service. According to Israel Radio a trial service to Beersheva, for use mainly by university students, commenced in April 1996.
Doughty reporter Sybil Ehrlich tried it out, and writes:
"The information I received from the Itim news agency was that the train would run at 2pm. I arrived at the Beersheba station at 1.30, no sign of any train. I was asked what I wanted, and explained I was from the Jerusalem Post and had come to report on the students' train. "It's going at 4.45, not 2." So I spent an unexciting afternoon wandering the streets of Beersheba - even the art gallery in the old Turkish station was closed. At 4.15 there were about a dozen assorted railway officials at Beersheba station, including Benny Naor (the Public Relations man) - to my surprise. The train comprised 'Jumbo' 610 and ten coaches - 603, 117, 82, 607, 618, 116, 83, 112, 76, 641 - and was decorated with balloons. It left promptly at 4.45 and travelled about 800 metres to a makeshift station adjacent to the university, were crowds were waiting. After the usual speeches, the train was launched with a bottle of champagne and everyone climbed aboard..... About 300 students made the 85-minute trip to Tel Aviv.
The train is the first of several which have been chartered by the Ben Gurion Univesity Students Union, after I.R. had rejected a request to provide regular services to Tel Aviv on Sundays and Thursdays; the Union hopes to cover its costs and, if there is sufficient demand, hire further trains on other days; according to Sybil's report in the Post on 21/4/96, further trains southbound from Tel Aviv were due to run on April 21st. & 28th. at 9am., and May 2nd. & 9th., departing 2pm.
Avishai Braverman, the President of BGU, thanked the students for their initiative, and Deputy Mayor Andre Uzan noted that all revolutions had been started by students, and expressed the hope that this would lead to reinstatement of regular passenger trains to Beersheba. (The last servcie was withdrawn in 1978).
b). Getting High in Haifa. In "Kol Bo Haifa" 4/96 is an article with two sketches regarding proposals for an elevated Light Rapid Transit system in the Haifa region. Light cars would operate on tracks elevated on pillars - the illustrations in the newspaper display whimsical artistic images of space-age monorails whizzing around (but not connecting with each other) while young lovers sit on a bench under a pillar entwined in foliage.....).
c). Railway Museum News. Latest acquisition for the Haifa Railway Museum is an Esslingen d.m.u. driving car No. 3 (according to Chen Melling built by LWB) - whether originally a motor or a trailer unit is unclear; It had been at the old Tel Aviv Merkaz station for several years, and was latterly stored at Bnei Berak (though how it was removed, bearing in mind there is no longer any track connection to the old Merkaz station, is also unclear.) It was taken to Haifa as a special load in easy stages at a very limited speed, (20 kph) being left overnight at several intermediate stations en route, in March/April. It was moved (by T44) into the Museum siding (that nearest the road) on the morning of May 3rd., which entailed moving some of the redundant stock out to Tel Hanan.
The Museum now has an interesting variety of rolling stock, mostly in need of restoration - sometime cosmetic, sometimes also structural. Alas, resources are limited. Does any reader have access to appropriate contacts, funds etc. ?
[Incidentally - a note on a different museum - Armley Mills Industrial Museum in Leeds. A visit in April 1996 revealed two narrow-gauge wagons amongst a pile of other stock, all badly in need of restoration (now where have we heard that before ?) - but bearing Arabic inscriptions. Enquiries of Geoffrey Horsman led to information that they came from the Sudan Gezirah Board, having been built by Robert Hudson in Leeds. Ron Fitzgerald was instrumental in getting them repatriated to Leeds, (along with a McLaren "diesel windlass" ploughing machine) around eight years ago, where they are currently neglected by the new management of the Museum......]
e). When The Heat Is On.... A khamsin heatwave on 12/5/96, when temperatures reached 40° C, contributed to considerable disruptions on I.R. Train 46 (07.20 Rehovot - Nahariyya) was running 30 minutes late out of Atlit because of chronic overcrowding. Shortly after leaving Hof Carmel the emergency brake handle was pulled, bringing the train to a halt in mid-section. Discovery and release of the brake handle took some time as it was almost impossible for the conductor/guard to make his way along the train, and another 20 minutes were lost as a result. The following Train 4 (08.36 Tel Aviv - Haifa) was held at Hof Carmel for 15 minutes until Train 46 cleared the section.
Train 24 (IC3, 11.25 Tel Aviv - Haifa) failed at Bet Yehoshua with what later turned out to be a minor fault, easily rectifiable. Passengers had to transfer to the following Train 52 (11.54 Tel Aviv - Nahariyya) with Train 24 subsequently working to Haifa as empty stock.
Train 25 (IC3, 17.08 Haifa Central - Rehovot) began its journey with no air-conditioning, though it should not have been allowed out in such condition. The inevitable happened as soon as Bat Galim were passengeres threatened open revolt, refusing to risk their lives in a mobile oven. Train 25 was promptly cancelled on the spot, with passengers transferring to the following Train 61 (16.35 Nahariyya - |Tel Aviv). Train 25 returned empty to Haifa East. Another IC3, with working air-conditioning, was sent to Haifa Central for coupling to Train 11 (IC3, Haifa Central - Rehovot) in order to take over Train 25's diagram. Arrangements were complicated in the extreme. Train 11 is a return working offf half of Train 26 (IC3, 16.35 Tel Aviv - Haifa Central), itself running 20 minutes late. At Haifa Cen. Train 26 splits, the front IC3 set continuing empty to the Haifa East depot, with the rear set returning south as Train 11. However, on 12/5 the rear set was faulty so the front set had to return as Train 11. This meant an extra shunt at Haifa Central in the middle of trying to work other trains through the station and also accommodating that empty IC3 sent out from the diesel depot to deputise for the cancelled Train 25. With three or four IC3 sets cluttering up the platforms at one time, any passenger who climbed aboard the wrong one could certainly be forgiven for his mistake. The timetable was in tatters by now, members of the Operating and Traffic Departments were losing years off their appointed three-score-and-ten, while the passengers were deciedly petulant.
The extreme heat caused other problems throughout the day, particularly with points which refused to align and lock properly and had to be passed at great caution until nightfall brought relief.
Similar problems were apparently experienced some ten days previously during another khamsin heatwave, but details are (mercifully) unknown as your correspondent [who spends his spare time earning a living by acting as Signalman at Haifa Central. Ed.] was enduring somewhat cooler conditions in the UK at the time.
f). Underground Activities Close Main Line ! No - not a return to the gory days of the 1940's; the Haifa - Nahariyya line was closed to all traffic north of Qishon from 13 - 17/5/96. This was to allow the installation of passenger subways at Qiryat Haim and Qiryat Motzkin stations, where second platforms are being built.
g). Sign of the Times ? Sybil reports that Jerusalem station has acquired a sign on the street side saying "Tahanat Rakevet Yerushalayim" in Hebrew and "Jerusalem Railway Sta" (sic.) in English - perhaps they ran out of blue paint after repainting Ramle, which is (Hallelujah) no longer pink, but white with blue trim.
h). More on Hashalom. See 32:4 (j) - more of a "Further comment and correction" than actual news, but Sybil was able to attend the opening ceremony for the new station. It opened for business on Saturday night Feb. 17th., and Sybil was able to catch the first train from there to Jerusalem the next day. This is a through working from Nahariyya -a total journey of around 4 hours - yet despite promises by Benny Naor there were no buffet facilities operating on the train, and although the station is super-modern there are no refreshment facilities there yet either. The official opening ceremony was postponed from March 6th. to 19th,. due to the horrific bombings; Guests (by invitation only) assembled at Tel Aviv Merkaz to take special trains formed of IC3s to Hashalom. Security was very strict in view of the fact that Shimon Peres was attending. The platform at Hashalom was spread with refreshments, and guests then escalated up to the entrance hall where the ceremony took place. The noise of traffic rushing past on the Ayalon highway almost drowned out the usual platitudinous speeches. The ceremony ended with fireworks (!) on the platform as the special trains departed back to T.A. Central.
The station has been designed by architect Eri Goshen, the wide roof forming a giant wave shape covering the bus stops at Hashalom bridge as well; it is intended the new station - second of five planned along the Ayalon, though at this rate it will be halfway through the next century before all are built - will serve about 2 million passengers p.a.
i). Timetable Blips. Services between Binyamina and Haifa were suspended on Friday 15/3/96 due to trackwork.
Due to the introduction of Daylight Saving Time, the Saturday evening trains from 16/3 onwards were to beretimed to run two hours later (i.e. leaving Tel Aviv Hashalom northbound at 21.44 & 22.39, southbound from Haifa Bat Galim at 21.00, and Qiryat Motzkin at 21.02.)
j.) Building Works. According to "Yediot" 9/5/96, building works on the suburban line between Tel Aviv and Benei Berak were due to start soon; 40M shekels are due to be spent in 1996 and a further 60M in coming years.
k). More Revelations from Sinai. "Kol Bo" of 15/3/96 has an article and map regarding Egyptian proposals to rebuild the line from Qantara to Rafah, and Palestinians rebuilding from there towards Ashkelon.
A map shows a "Proposed Alternative line" which runs from Ismailiya several miles to the south of and parallel to the former line (which was, after all, built near the coast to be under the protection of British naval guns !), and would appear to roughly coincide with the old route from El Auja towards Beersheba, thus avoiding the "Gaza Strip" (or whatever its current correct name is) completely.
l). Haifa East. From reports it appears that very few trains now stop at Haifa Mizrach (East) station - the old Hejaz terminus that also houses the Israel Railway Museum. Until recently many trains paused here, even though not advertised to do so, and cleaning of coachings sets also took place; now the traffic swishes through.........
m). New Station ? There are proposals for a new station to be built at Hotzot Hamifratz (also known as Vulcan Junction, Haifa) - presumably near the Qishon signal box and level crossing and the junction for the Israel Chemicals branch.
------------------------------------------------------
33:5
ROLLING STOCK NEWS.
More snippets from Steve Tish:
Liveries: G12 124 was repainted in IC3 colours and arrived back in Haifa 28/3, re-entering service 31/3. 113 was at Qishon during April, and returned to Haifa 20/5, re-entering service next day.
Collision. Locos 601, 614 and 701 were in a collision at Ashdod on 30/3/96 (further details unknown). 601 was only slightly damaged and was repaired and released from Haifa immediately; 701 was initially dealt with at Haifa, then transferred to Qishon during the week commencing 5/5; 614 was still at Haifa in mid-May having suffered engine damage, and will also be transferred to Qishon for further attention.
Deutz Demise. Not previously reported is the sad demise of the remaining Deutz 0-4-0D shunter No. 201 which is no longer in the southern yard at Qishon and is assumed to have been scrapped on site.
Loco Order. There are several reports of new locomotives being ordered - one bizarrely illustrated with a colour picture of an SNCF "Sybic" electric bi-current bo-bo No. 26009 ! Steve reports that the firm order is only for six new passenger locos, with a possibility of 12 more with new bodies but refurbished engines - or alternatively more new locos and fewer refurbished ones. Negotiations are continuing with Alsthom, and delivery is anticipated at the end of 1997.
This is separate from the order for three new shunting engines - a decision on these is imminent.
Kronoim. (IC3 sets.) Of the Mk.2 sets, set 4 arrived at Haifa sheds 28/3, set 5 on 1//5. As at 9/5, Mk. 1 sets Nos. 1 & 3 were at Ramta, in the final stages of preparation to be shipped to the USA; they departed from Haifa Port on the vessel "Vera K." on 20/5/96, destination Baltimore. They are to be loaned to Amtrak for 2½years, and in their place I.R. will receive two new Mk. 2 sets. The IC3's are to be tested on suburban services in San Diego, Los Angeles and Atlanta, and have been chosen for such duties apparently because the Americans wanted sets that had already been "run in", had overcome any initial "teething problems", and that were fitted with air-conditioning suitable to the climate of those areas.
Apparently there is budgetary approval (for 95/96) for a further batch of up to nine more IC3 sets (Mk. 3 ?), and negotiations continue also on this front.
Coaching Stock. No. 608 was refurbished at Haargaz by 7/4/96, and went to Qishon 8/4, re-entering service 18/4, though bearing no paint-date.
At the end of April the following were at Qishon being prepared to go to Haargaz works - Nos. 84, 613, 631.
Nos. 612, 624, 626, 627, 628, 631, 635, 681 have acquired white roofs.
No. 635 and 639 went to Haargaz for refurbishment on 27/3.
617 now bears a paint date of 21/3/96. 80 was repainted at Qishon 2/96.
616 (which was damaged in the Haifa fire) is expected to be converted to a generator coach in due course. Nos. 54 and 58 have been withdrawn from service and both lie at Qishon (weeks commencing 3/3 & 28/3 respectively).
--------------------------------------------------------------------------------------------
33:6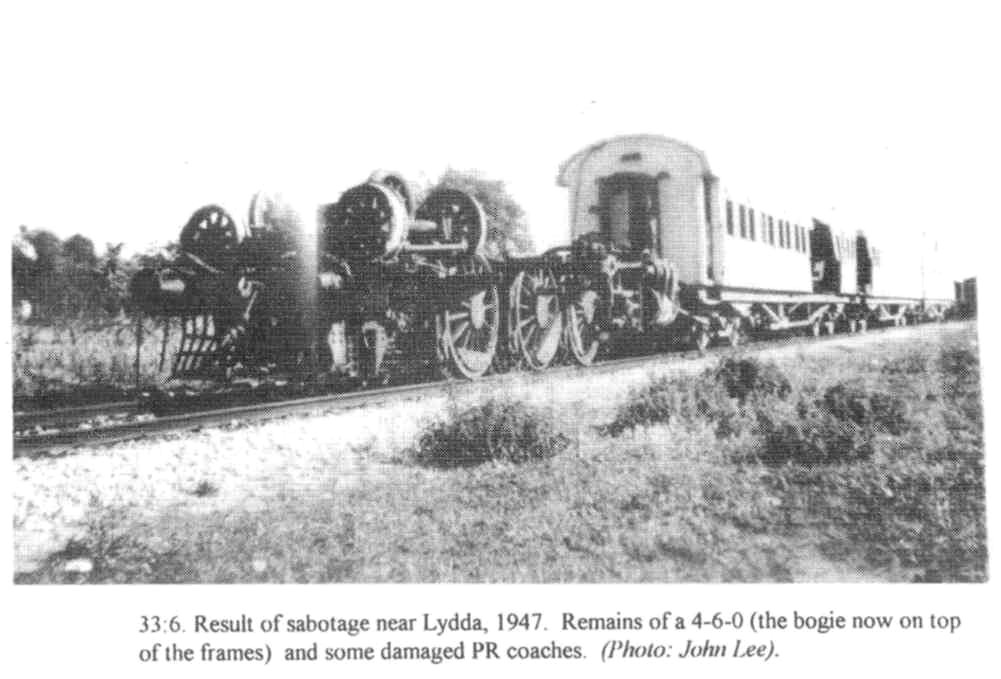 33:7
Back to HOME PAGE Back to CONTENTS
OTHER MIDDLE EAST RAILWAYS.
a). Hedjaz. (i): According to a report in the "Continental Railway Journal"
No. 105, Spring 1996, p. 354, Observations from Nov. 1995 : "The abandoned branch line from Ma'an to Ras an Naqab [also known as Naqb Ashtar. Ed.] is still remarkably intact. Bridges and viaducts which traverse wadis are nearly all in place, as are complete sections of track. However, at the Ras an Naqab end, some of the trackbed has disappeared beneath the realigned Amman to Aqaba desert highway. The Amman/El Hasa - Aqaba phosphate line is in fine condition and has modern signalling, but traffic did not appear to be very heavy."
(ii): From Andy Wilson: On Sunday 7th. April Andy managed another visit to Damascus:
"First visit was to Kanawat Station to see the Amman train away at 07.15; see that the 2-6-0T No. 62, displayed in front of the station, has a wrong works plate; this is from a 2-8-0, with the last figure of the number altered to show "1203", which was the works number of the Jung 1908 2-8-0 originally numbered 62 ! [Later No. 122]. The 2-6-0T is really Jung 966 of 1906. [See Hughes, p.80. Ed.]
The Amman train comprised loco 401, match truck, two wooden coaches, six Jordanian vans and another match truck - all vacuum braked, for which 401 is fitted. The match trucks are low-sided, with an American coupler at one end. The one behind the loco was ballasted with old rails, no doubt for stability and operation of the brakes without skidding; the one at the rear did not have the train brakes connected, and was presumably needed just for shunting. There were a number of passengers, both foreign and local.
The Hijaz Bar train [See 32:9] had not moved since my visit two months ago. The fancy canopies are welded in place so the train is not mobile. A 2-6-0T and CEL van Ff 5104 had been added in front. I did not note which engine this was and it does not show in my photos - I think it was 751. It appeared to be in reasonable condition but not in regular use.
Further down this platform there were three four-wheel coaches in fairground colours. (More later on these). On the track behind the Amman train was the HR's rail-mounted Land Rover of mid-1950's vintage, painted bright yellow. This was first out, on the Serghaya line, after which the Amman train moved off. Then I walked along the track to Cadem, and halfway along there was a whistle and an approaching cloud of steam, which turned out to be No. 754 with one 4-wheel coach heading into town.
There was no activity at Cadem. I checked out standard-gauge train times and then taxied back to Kanawat where 754 was about to depart with a passenger trip to Ain el Fije, which cost me 10 Syrian Pounds (about 15p. !)
[Incidentally, Kanawat is technically the name of the district in which the station lies, not the station itself, which is now simply known as "The Hejaz Station" - but we will continue to use this name as it is now well-recognised amongst our readers. Ed.]
The Fije train was well filled with people taking a picnic trip. Three ex-DHP 4-wheel coaches of different colours, red, yellow and pink on the train and a grey one left behind at Kanawat. All carried boards marked 'Hejaz Railway' (not CDS). The train went very cautiously along the first part of the line which is roadside, but moved at reasonable speed once on private track. We stopped at Hamme for water. On arriving at Ain el Fije the Land Rover was at the station. 754 ran round straight away, but it was not due to return to Damascus until 4pm so I went back by road.
There was a notice in Kanawat station advertising some special free trains on 17th. April, Syria's Independence Day and Golden Jubilee. Damascus to Ain el Fije, outward 08.30, return 17.00; Deraa to Muzerib, outward 08.00, return 17.00; and Deraa to Bosra, outward 09.30, return 15.00. My guess was that one train would do both the Muzerib and the Bosra runs. However....
Due to the conflict situation my work was disrupted and I used the opportunity for another brief trip to Syria on 17/4/96. The specials turned out to be separate trains, and as I had been to Bosra with TEFS in 1991 I decided to go to Muzeirib. The trains were already at Dera'a the previous evening; three steel Ganz coaches/trailers for Bosra in the station and loco 401 in front of the shed, and railcar R11 for Muzeirib, inside the shed. Also in the shed was a track maintenance machine ! [Such an item has never been reported before, and judging from the state of the track in photos I have seen, is more than badly needed - but where would one start ? Ed.] The usual steam locos were outside, Nos. 66 and 161, apparently not having turned a wheel for some time. 66 looked complete, 161 was short of some coupling rods.
The Muzeirib train was first out, at 08.30, half an hour later than the notice at Damascus had said. The line from Dera'a was generally on a low embankment all the way, through agricultural land. Approaching Muzeirib station on the Haifa line, the railcar swung off to the right and headed to Muzeirib village about 2km. away, where the line terminated with a run-round loop across the road from a lake where a fair was set up for the Independence Day celebrations. I noticed that the steel sleepers on the Muzeirib village branch were dated 1906. I did not see any trace of the former DHP (Damascus-Muzeirib line) station near the HR buffer stop.
Apparently there is a regular Muzeirib run, Fridays Only. The state of the track did not imply recent use and presumably this operates only in summer."
[See photos elsewhere in this issue. Many of Andy's shots are historically fascinating but, comprising as they do thin strips of rusty rail set amidst high weeds and lacking the "clag" element that some find more photogenic, may not reproduce well here. Ed.]
In a later letter, of 22/5/96, Andy states that the "Muzeirib village branch" is a part of the very first piece of the HR to be opened - from Muzeirib DHP to Dera'a. [Presumably this was needed for access to the building works elsewhere before the parallel Damascus-Dera'a line was completed. Ed.] "Tourret says it was closed soon after the HR was opened to Damascus, which is clearly not the whole story. I would have expected to find a DHP station in Muzeirib with buildings similar to those elsewhere on DHP lines, but I did not see anything likely - though my search was short and I would like to return to look more throughly."
Regarding the 4-wheel wagons stored at Dera'a: "These are ex-DHP. I am not aware that there was any distinction made between those for the Hauran and the Beirut lines. A number of them have "Athermos" axleboxes, A French product which was being advertised in the 1950's. Typical of the French love of gadgets, but clearly the DHP was keeping its equipment up-to-date. (I assume a retro-fit of older wagons, not new construction.) The TL had very few wagons (according to Tourret), and I have not seen any positively identified photos of them, but I do have a copy of a photo of Beirut station, claimed to be taken in 1895, which shows some wagons which I suspect are TL. They have vertical screw brake columns on the ends, but no brakeman's shelter, and do not correspond to anything else recognisable to me."
b). Syria: Standard Gauge.
Also from Andy Wilson, dated 7/4/96: "Later I went to Cadem to ride the standard gauge to Homs, which the people in the station office said was scheduled at 17.25. The Booking Office said 17.15, and their computer-generated ticket said the same, but it really moved off at 17.25. The exterior of the train was filthy and it was hard to see out of the windows, although it was clean and comfortable inside. CEM shunter 104 DE was standing at Cadem and the train engine was Russian-built LDE 2800-276 in blue livery. [Almost Turquoise. Ed.] Once on the way, a loco was seen on a grain train at the silos near the turn-off from the HR line - LDE 1500-, but I missed its running number; it was in a pinkish-grey livery, long hood and end cab. A bit further out we passed large yards where 110 DE and LDE 2800-426 (in red livery) were noted. Soon after this it got dark and very little could be seen. We passed a freight with two LDE 2800's. The 2800-276 was not in good order, with lots of black smoke and slow running along the line. Eventually we stopped in the middle of nowhere for over an hour. I think an assisting engine must have turned up because we then rolled on without further incident, but it took until about 23,.00 to get to Homs. The track looked quite good, but it gave a rough ride - it needed a thorough tamping and lining campaign. I got a bus back to Damascus, and to bed at 03.00 !
c). Lebanon. Also from Andy Wilson: I have received some photos showing parts of the former HBT line (betwen Jubail and Batroun) and the former station area in Beirut. They indicate that the track - flat bottom rail on steel and concrete sleepers - is still intact in some areas, totally overgrown (but still present) in others, and missing in a few. He adds that it is hard to get good angles for photography on many former HBT relics - one either has to stand well distant, or cope with obstructions from trees and buildings closer up.
He notes that the recent hostilities led to a small reduction of road traffic in Beirut, and a dramatic improvement in air quality ! Clearly the place neds a decent metro.
d). Saudi Arabia. From "Fahrplancenter News" No. 21, Feb.-April 1996, p.8: (Translations by Editor):
"In relation to the size of the country and its wealth, Saudi Arabia's railway network is quite modest. There exists a total of 1,390 km. of rails in the Saudi kingdom, including the two main routes from Ad Dammam and Ar Riyad (the capital), and all branches.
The system was last extended in the 1980's, when the 140km. stretch from Ad Dammam to El Hofuf was doubled and this route, like the dead straight 309 km. main line El Hufuf - Ar Riyad stretch, was improved to suit 150 km/h speeds.
The stations of Ad Dammam, El Hufuf and Ar Riyad were completely renewed. The whole route now has UIC60 (60 kg/m) rails, The section El Hofuf - Ar Riyad is also double track. The rails were made in a steelworks near El Hufuf. All level crossings along the lines are now equipped with automatic barriers, powered by batteries which are charged through solar energy. Alongside the new El Hufuf - Ar Riyad line there remains the former single-track and curved line which leads via Harad and Al Kharj. The average speed on the old line remains at around 40 to 50 km/h, in stark contrast to the new line. Trains over this route (there are two return services each day except Fridays) require 13 hours, whereas the two return services over the new line (Daily except Thursdays) require only 4 hours for the 454 km. line Ad Dammam - Ar Riyad.
The degree of comfort offered in the trains over the two routes is also quite different. The slower trains, which travel overnight, are really freight trains with passenger accommodation, and offer only the older-style 2nd. class coaches; the faster trains are composed of fully air-conditioned 1st. and 2nd.class coaches built by Schindler in Switzerland, and also have Restaurant Cars. There are separate compartments for men and for women, for women with children, and family compartments, appropriate to the Islamic traditions of the country. Since women are not allowed to drive cars in Saudi Arabia, the Women's compartments in public transport are especially important. Each express train comprises a diesel loco and 8 express coaches.
The railway owns over 59 diesel locos; only six of these date from a 1981 French order (Francorail/Jeumont-Schneider), the rest are all from GM-EMD in the USA; the oldest locos date from 1953 and the newest from 1985. Only Bo-Bo and Co-Co types are represented; depending on their power rating, which varies from 746 to 2611KW, the locos are permitted maximum speeds of 110 to 160 km/h. The Saudi Government Railroad Organisation (SGRO) also operates 49 passenger coaches, 9 Restaurant Cars and 2,340 goods wagons. In Ad Dammam are the central Workshops, which have a capacity for 78 line engines and 33 shunting engines, and where 20 locos can be repaired at the same time. There is clearly a great deal of over-capacity. The lines and stations could also cope with much extra traffic.
Passenger traffic is growing gradually and in 1993 reached 399,295 passengers (in 1990 there were 393,000 and in 1992 399,000). Goods traffic fluctuates between 1.6M and 1,9M tons per annum.
The rails rest on Monobloc concrete sleepers, 1667 sleepers per kilometre; as well as the 60 kg/m rails there are still some 54 kg/m rails in service on older sections. The steepest gradient is 1% (1:100) and the sharpest curve has a radius of 565 m; the maximum axle load is 29 tons.
Even though all the above gives a very positive picture of this railway system, there are some negative points too. The railway makes a heavy deficit. From 1990 to 1993 the receipts rose from 60.5M to 90.27M Riyals, but the expenditures sank during that period only from 315.2M to 303.92M Riyals, indicating that the railway covers less than 30% of its costs. Main cause of this financial misery is the high wage level, compared to the low ticket prices and freight tariffs and the very intensive maintenance of the lines. Sand drifts are a major problem worthy of mention. Many massive concrete bridges have had to be built against the rare but violent periods of high water in the wadis. A third of the expenditure is also dedicated to paying off the costs of the modernisation. With the formation of the new government at the beginning of 1996 the former President of the SGRO has become Transport Minister. Not much is known about this man, except that he is a supporter of expansion plans for the railway system.
Under the direction of the former President of the SGRO there were already plans between 1990 and 1995 for the construction of a 100 km. long line from the harbour of Ad Dammam to the industrial centre of Jubail, but the then-Transport Minister displayed little interest, hence this project will not now be completed until 2000. However, this short stretch along the Arabian Gulf is only a small fragment, compared to the wider expansion plans. However, a blow to supporters of the Hedjaz Railway is that there are no plans to reconstruct this line.
The major project under discussion is a 690 km. (approx.) line from Ar Riyad to Jiddah on the Red Sea. Since Jiddah is the commercial centre on the Red Sea coast, this line makes the most sense as it would remove Saudi import and export traffic from the troubled Gulf area. With a branch to Makkah (Mecca) it is also hoped to bring a part of the pilgrim traffic onto the rails. Such a branch would be likely to carry millions of passengers per year.
From Riyad northwards to Gassim and Ha'il a further secondary line is planned, in order to open up the hinterland better. In older plans there was a scheme to continue this line into Jordan, Syria and Iraq, but this never happened due to the political differences with Iraq.
Another secondary line from Ad Dammam via Az Zahran in the United Arab Emirates and Oman is not a high priority, since only limited traffic is expected on this route - for it must be borne in mind that the country has an excellent road network which is quite capable of handling the traffic at present.
At present Saudi Arabia still has the necessary financial resources to expand its rail network and cover its enormous deficits. However, the oil reserves are continually declining. The country is beginning to encourage industrialisation, since improvements in agricultural production can only be limited, due to the dry climate. Whilst Oil is brought by pipeline to the harbours for loading, Industry would require a high-capacity and efficient transport infrastructure, which would especially link the centres of Ad Dammam and Jiddah with the harbours for imports and exports, the large consumer centres such as Ar Riyad and Al Madinah and important production centres such as Jubail. This could be achieved with railway lines, which would also serve the passenger traffic.
It now depends on the new Transport Minister, whether he can set the points in the right direction for expansion in the new century."
e). Former Persian Loco for Sale....
Your Editor receives a wide variety of curious items in the post; one (via Matthew Kessler) was a catalogue of American locos and rolling stock for sale. Catching his eye was an advert for:
"ALCO RSD-1 No. 8006, Started life on the Rock Island but was drafted for war duty in Europe and Middle East. Located in Kentucky. Stored serviceable. Excellent Condition. For information call: Jim Satterwhite, tel. 704-436-9393, fax. 704-436-9399."
Reference to Hugh Hughes' "Middle East Railways" (p.110f) shows a photo of sister loco 8048 (Alco of 1943) and that Nos. 8000-8012 were all Alco 1,000 hp. Bo-Bos re-bogied as Co-Cos before despatch to the USATC-operated lines in Iran. It is to be hoped that this historic loco will find an appropriate new home.
f). Iran. From 'Fahrplancenter News' No. 21, p.38: (Samuel Rachdi has a most amazing range of contacts and sources !):
- (1): Trams. Three German concerns have recently signed an agreement with the city of Mashhad, whereby the city will receive a tramway system for 100 billion Rials. The route will be 17 km. long and there would be 50 trains operating, to carry an estimated daily load of 40,000 passengers.
- (2): Openings. The Iranian Foreign Minister announced on 8th. Jan. that from the beginning of the Iranian year, which commences on 21st. March 1996, the new railway line between Mashhad and Sarakhs (on the border with Turkmenistan) would be opened. At first only for freight traffic, but passenger trains will operate over the new route soon. [See 32:14]. (Andy Wilson says the BBC reported the opening on 13th. May, claiming this to be the final link in a through route from China avoiding Russia.)
- (3): Rumours of New Trains. According to reports in the USA, which have so far not been confirmed by any European source, the Iranian State Railways are to order or have ordered several IC3 trains in Denmark, to improve the express services from Teheran. Has this uncertainty perhaps anything to do with the tensions between several countries and Iran, relating to issues of terrorism ?
g). Egypt. Again from 'Fahrplancenter News' No. 21, p.27:
The government is seeking possibilities for financing the reconstruction of the Sinai railway from the Suez Canal to Gaza, and for the construction of a bridge over the Suez Canal. The renovation of the old Western Desert Extension lines from Mersa Matruh to El Sollum (the border with Libya) should be completed in 1996, to be ready for any eventual extension back to Tobruk in Libya. More air-conditioned 3rd. class coaches and new diesel locos are to be ordered this year.
"Eisenbahn Magazin" 6/96 has (p.8) two photos of Type DE2550 Co-Cos built by the ADtranz Works in Kassel (formerly ABB-Henschel), of an order of 68 such locos for the E.N.R. Livery is light green with a yellow bodyside strip which continues round the front, and yellow cab roof. (Just one cab). Specifications given include: Designed for freight, top speed 80 km/h, General Motors engines, 1845 KW, overall weight 132 t., axle load of 22t.. They are intended to be used in pairs on the line being constructed from phosphate mines at Abu Tartour in the Sahara to Qena on the Nile and Safaga on the Red Sea coast, and are designed for extreme temperatures with special air filters against sand. Should one loco fail, the second should be able to maintain progress (albeit slower) with the heavy phosphate trains. Anti-slip protection is fitted, and the speed is measured through radar.
The first two locos are pictured undergoing test running on the Kassel-Naumburger Eisenbahn; these are the latest of over 400 Henschel locos delivered to Egypt in recent years.
h). Yemen. Andy Wilson writes of a book "The Two Yemens" by Robin Bidwell (Longman 1983), which mentions the Turkish railway project in Yemen, from Hodeidah to Sanaa; a survey report was made in October 1909, the first sod was cut May 1911. Another line was proposed from Hodeidah to Taizz and Dhamar. Bidwell comments that "neither plan was to get very far". Certainly the Ottomans were facing serious difficulties in Libya and the Balkans and presumably they decided to cut their losses in far-away Yemen. The date fits the diversion to the Hejaz of the Roulx (Yemen) carriages and wagaons. Also, Borsig supplied their 0-6-0 tanks Nos. 8060 and 8061 in July 1911 to "Jemen" through the agency of Decauville. Whatever became of these?
33:8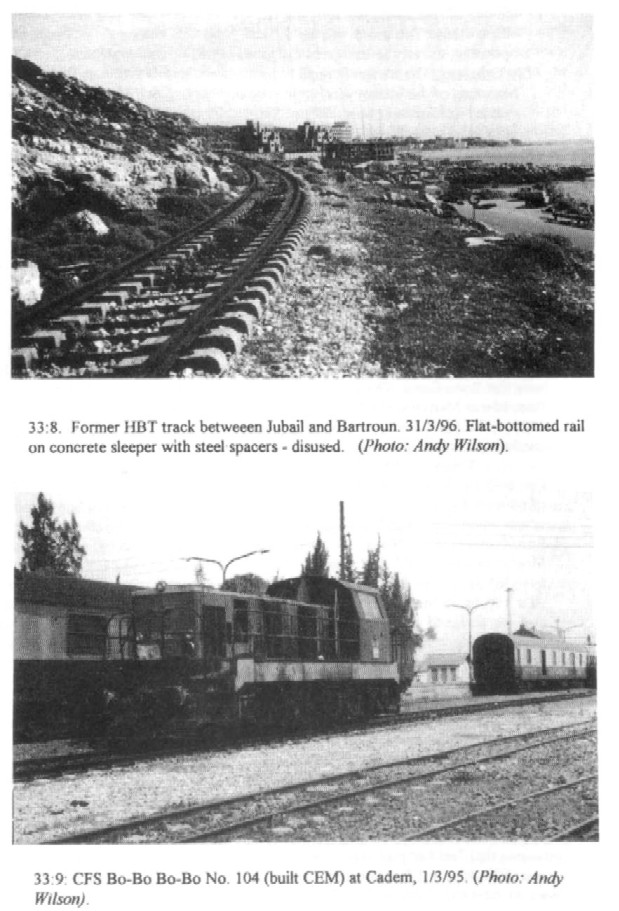 Back to HOME PAGE Back to CONTENTS
33:10
Notes and Comments,
a). Mystery Loco in Beirut.
Via Paul Cotterell comes a query from Keith Clingan who recalls correspondence from Ernie Jones forty years ago regarding an unusual loco which Ernie sighted at Beirut in January 1945. This was a 60cm. gauge outside-cylinder 0-6-0T Decauville 1717 of 1917, which was dumped on the ground in front of some standard gauge wagons at the Beirut HBT station. The loco carried no indication at all as to its owners. Keith, who is an expert on French industrial locomotives, notes that Decauville 1717 was one of many standard 8 tonne engines ordered for military service by the Ministère de la Guerre (French Ministry of War), but is unable to add anything further on this particular example. Can any of our World War Two veterans recall seeing this small loco at Beirut, or is any other reader able to supply details ?
b). Hashalom Station: Another White Elephant ?
Hans Kohut has some sardonic comments on the new station: It serves the "Qiryah" (Government district) and the Army HQ, where nearly everyone already has his own private car, whereas the great majority of non-car-owners, who might conceivably wish to use public transport and connect from the Ayalon rail line to the great new Tel Aviv bus station, will find that the station for this has not yet been constructed...... Hans recalls the opening of the "new" Tel Aviv South station in the green fields of Mikveh Israel; the ceremony was carried out by then-Transport Minister Shimon Peres. Hans did not mince his words to the later Prime Minister, the Railways' General Manager Zwick, and Gad Yacobi; he predicted the short lifespan and dreadful fate for this station, which was architecturally and technically admirably up-to-date for its time. Fortunately the station survives for other purposes now, partly as a Training Centre, and may be adapted as a depot for IC3 units, but there does indeed seem to be a tendency in Israel for grandiose plans for wonderful stations - in the wrong place !
c). On 32:19.Milstein Memoir.
This very lengthy memoir has brought a few responses:
- (i): Robin Davies, a contemporary of Aubrey and Yetta Milstein, adds a note of personal regret regarding their attitude to the English ! [It is unfortunate that reporting of past conflicts and disagreements may revive painful memories. However, if items in "Harakevet" stimulate memories and further information - even contradictions - then all readers can benefit. Ed.] From his notes: "I myself had many friends among the Jews and Arabs. Indeed one of them was the Max Feuerstein (later Avnoor) that he mentions. When I left Palestine I gave Max and his wife Sylvia my M.G. (TC). Max was in charge of the Motor Transport for the P.R. in those days, and in consequence was one of my staff. I found them a delightful couple. From Palestine I went to Africa where I was appointed to the Kenya - Uganda Railway - later the East African Railway. When I had been there 2 1/2 years (I had got married in the meantime) I had a message from the Nairobi branch of the South British Insurance Co. that they had had a telegram from their Haifa branch to the effect that "A Mr. Feuerstein wishes to know how much you want for your car". This downright absolute honesty was typical of Max and I admired him for it. Sadly, when my wife and I visited Israel in 1983 Max had died, but we spent an evening with Sylvia at her home on Mount Carmel and talked of old times.
Other friends too have unfortunately passed on. Alexander Maldevan is one. A driver from Czechoslovakia, he became our Senior Loco Inspector and was Shedmaster at Haifa S.G. Shed for two years. During 1946 he and I carried out modifications on the L.M.S. engines. We changed the oil-burning firepan completely, fitted n.g. 105cm. injectors instead of their cumbersome exhaust injectors; modified piston packing to eliminate piston rod scoring; and many other details all of which improved the performance of these engines.
Socolovitch I knew well. A retiring man with great technical ability, he became the first C.M.E. of the I.R. He was a personal friend and I can well remember, one evening, the great regret he expressed at my leaving - indeed he was a great friend and admirer of the British... He had been with the P.R. for more than 25 years and had known many British people. In spite of all the danger and difficulties, I enjoyed my five years with the P.R., as did most of my colleagues. I find it sad that, apparently, Aubrey has such antipathy towards the British personnel!
He is certainly wrong in classing District Commissioners as "third-rate administrators". Far from it ! Before they could step onto the lowest rung of the administration ladder (District Officer), they had to go through a most rigorous interview. Usually they were required to have a good Degree - often one found District Commissioners who had Oxford "Greats" (First-class Honours in Greek and Latin). They were of impeccable character and Aubrey maligns them wrongly....
The Palestine Police had a dangerous and difficult job to do, and while there were a few bad mistakes, I think they did their job with honesty and bravery. I cannot believe the story of the "Life sentence or Palestine Police appointment". This is the stuff of pub jokes ! Nor, equally, can I believe that our judiciary could have been "paid off" as is said on page 38. These things just don't happen with such people !
My final reason for doubting a lot of Aubrey's recollection is his statement that in 1947 Efrati was Head of the Motive Power section. He most certainly was not, since I held that very post ! It was called "Locomotive Superintendent" in those days but it meant the same and there was no other post."
- (ii). From Theo Pelz: "re. p. 31: I never knew that the Allied invasion force into Lebanon in 1941 was led by a General Milstein, and that Moshe Dayan was just a member of a scouting party when he lost an eye !
re. p.33: Messrs Spinneys Ltd. had one branch on Jaffa Rd. near the German Colony, the other in Herzl Street on the Hadar.
re. p.38: Fawzi Kaukaji was not an "Iraqi leader", but a former Turkish officer who in WW1 took part in the Armenian holocaust; he merits a report on his own.
re. p.39: No HR trains ran from Haifa after Independence Day in 1949. I should know, since I worked at the Qishon workshops in Spring 1952." (N.B. Other sources disagree in turn with this !)
[Note: As stated before, it is not the intention of "Harakevet" to reopen old wounds to the extent that pain and embarrassment are caused - but it is often revealing to compare different recollections of the same period or event. Speaking as a Cambridge graduate, I have to say that the fact that someone was a bright fellow with a good Oxford Classics degree did not necessarily make them into a broad-minded or philosemitic colonial administrator ! All Police forces have been known for the variety of men in their ranks - and from the P.P.O.C.A. itself it is clear that many policeman became increasingly angered and partisan as their friends and colleagues were killed or injured. So - it is probable that there is right on both sides of this debate. It is hoped that all will feel able to share the pages of this magazine and share with others their views and memories, however personal. Ed.]
d). On 32:18. Accident. Robin Davies (whose photo it was) adds the following information: "These vehicles belonged to the HBT, and the accident occurred between Nahariya and Acre. It was caused by flooding in the winter of 1946. The coach derailed and was telescoped by vehicles following. The engine and front vehicles got across but the track was in saturated ground. It was an unusually difficult accident to clear because of the mud."
Paul adds: "The two damaged coaches are definitely ex-Great Indian Peninsula Railway. The one nearest the camera is numbered 32. This does not fit in with the PR numbering list for those four ex-GIPR coaches officially in PR stock, so perhaps it was retained from service in India. [Or an HBT number - see above. Ed.] The accident must have happened close to a station [Manshiye ? Ed.] since there is a double-arm semaphore signal prominent at right."
e). On 32:21: Locos at Taba. Paul adds: "I have not visited Taba to view the Deutz diesels displayed there, but from other photographic evidence it is obvious that the locos have been spruced up fairly recently. Unfortunately they have also lost the large hand-painted numbers they once carried. I am surprised that the diesels are still plinthed in Taba, having rather expected them to be disposed of by now as so much 'junk'."
f). On 32:22. Sarafand Map. Somewhat coincidentally, a group of interested individuals was able to penetrate the huge Sarafand army camp in December 1995 to view remains of the layout there. Everything was much overgrown and it took some time to orient ourselves. Eventually we found the long platform, now very derelict, and plunged into the surrounding undergrowth to find that the three adjacent tracks were still there. The hut and latrine shown on the 1938-39 diagram had disappeared, but an addition was a well-preserved station building at the west end of the platform. Since this is not indicated on the drawing it must have been a wartime addition. Built in concrete with a 'crazy-paving' pattern etched on the outside walls, it was possible to make out a Ticket Office with typical window, a Waiting Room, what appeared to be a Parcels/Goods office and, possibly, the Station Master's office. It was not possible, however, to see if those proposed lines had actually been built since this area was behind a high wire fence. It appears that, anyway, this area has seen a good deal of fairly recent building, so remains of any lines there could well have been completely obliterated. As this is still a military area, photography was unfortunately not permitted."
g). On 32:23. Kiryat Motzkin. Also from Paul: "Theo Pelz reminds me that there used to be a long siding north from Kiryat Motzkin station, parallel to the main line, serving an army camp on the west side. I remember this well. The camp was derelict in the 1970's and then gave way to new residential building. The siding and camp were probably built soon after the diagram had been prepared (i.e. 1943-44). As I recall, there were several internal sidings in the camp, and even towards the end two or three derelict PR vans could be seen there."
h). On 32:24: Industrial Lines. "Another insubstantiality recalled by Theo Pelz was a light railway in a stone quarry in the neighbourhood of Geula in Haifa. This was probably used to bring stone from the quarry face over a short distance for loading on to road trucks. I think the quarry closed in the 1950's and, while I've not explored the site, believe it has now been built upon. The line, or lines, would have been hand-worked with, no doubt, a few tip wagons."
(NB : The Editor has found photographs in 1920's books of short works lines near Kibbutz Kinneret, on drainage works, and a line at Rishon leZion wine-cellars, probably for moving barrels around.)
i). On 28:14: Cyprus Notes. Len Redshaw comments that the late Ray Tustin reckoned there was only one loco surviving, a Hunslet 0-6-0T on a plinth outside the former station in Famagusta, whereas Uri reported two locos. Can anyone clarify ? (Uri Ben-Rehav is certain that there are two, which he photographed - a Hunslet tank and a semi-dismantled Baldwin tank.)
j). On 32:25: Len adds that the five photographs he took at Armant were reproduced in 'Industrial Railway Record' for Sept. 1995, with correspondence in following issues.
k). On 28:24 and 32:7(c):- the rebuilding of the Hedjaz Railway: Mr. E. Ingerslev (now of Tenerife) has responded to Dr. John Dayton's memoir thus: "He describes me as the Consulting Engineer to the partnership, which was true, and I did complete the design of the thousands of bridges and improvements of the line, or rather the curvature of the track; but I was also the legal representative of the partnership vis-a-vis the client, and for the major part of the contract ran it on the spot as Contract Manager until illness forced me back to the U.K. Not much was outstanding, mainly the actual tracklaying, which was in any case to be carried out by a specialist company."
[The Editor muses: How strange is the postwar history of the old HR; the Haifa branch had a few twinges of life and then sank into weeds and rust; the Saudi section came so close to full life, then had the plug pulled from it just before proper reactivation. The Jordanians acquired a variety of modern locos from the 1940's and 1950's, (English, Belgian, German, Japanese....) but no new carriage stock; conversely the Syrians acquired no new steam locos and ran their line with a mixture of pre-WW1 German or Swiss steam locos and later Rumanian and Hungarian diesels and diesel railcars, the latter often doubling as hauled stock..... When Palestine Railways was still acquiring and operating unbraked four-wheel wagons, so that valuable space had to be used in wartime transporting gods brake vans out to the Middle East, the HR freights used bogie stock with continuous brakes - technically far ahead. Yet at Dera'a are still lines of derelict four-wheel wagons that appear not to have been used for many decades - are these relics from the "Tramway Libanais" or, perhaps more likely, from the Hauran line Damascus-Muzeirib, which closed in the middle of WW1 and of which I have not seen a single picture ?}
Back to HOME PAGE Back to CONTENTS